Wizard of Oz Dorothy's "Ruby Slippers" recovered 13 years after theft
Comments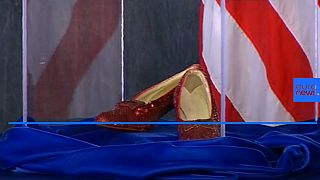 A pair of ruby slippers worth millions that were featured in the movie "The Wizard of Oz" and stolen from a Judy Garland museum 13 years ago have been recovered in Minneapolis, the Federal Bureau of Investigation said on Tuesday (September 4).
The slippers, known as the "traveling pair," were stolen from the Judy Garland Museum in Grand Rapids, Minnesota, during a "smash-and-grab" robbery
The shoes were insured for $1 million.
The Grand Rapids Police Department sought assistance from the FBI in 2017 over an extortion plot against the owners of the shoes, the Markel Corporation, which led to their recovery. The FBI released few details about that investigation or where they were found in July.
The ruby slippers are key in the 1939 movie. After mysteriously landing in the colorful Land of Oz after a tornado hit her farm in Kansas, Garland's character, Dorothy, has to click the heels of her slippers three times and repeat "there's no place like home" to return.