Calls for unity in Chemnitz against Far Right
Comments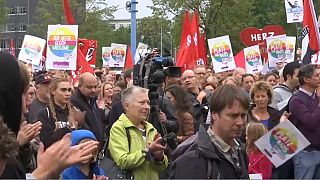 Church, politicans and musicans are making a concerted push back against the Far Right in the east German town of Chemnitz.
A concert calling for tolerance will take place there tonight.
It follows another turbulent weekend of demonstrations and counter-demonstrations in the town.
German Police are continuing to investigate who leaked an arrest warrant for an Iraqi suspect in a stabbing case a week ago to far-right groups. The disclosure led to violent protests.
The unauthorised disclosure has increased concerns of possible links between police and anti-migrant groups.