May seeks Brexit boost from Africa trip
Comments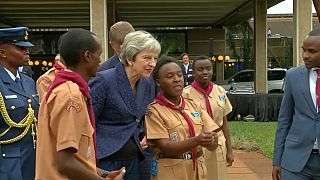 Britain's Prime Minister leaves Africa with a spring in her step.
Theresa May visited South Africa, Nigeria and Kenya with the hope of reaching potential trade agreements ahead of Brexit next March.
Speaking to Euronews, Ryan Heath, Editor of 'Politico Europe' says the agreements are nothing new.
"We saw earlier this week headlines about Britain's first post- Brexit trade deal, that's just rolling over what Britain already has. It's not a knew achievement. It's just not going backwards. And what we do know, is that because Britain will trade on worst terms in with the EU after Brexit, about 45% of Britain's export, Britain is already back peddling from day one".
It comes as the European Union's chief Brexit negotiator, Michel Barnier, offers Britain an unprecedented close relationship after Brexit. But he does also say it won't permit anything that'll weaken the body's single market.