EU to UK over Brexit: ''no single market a la carte''
Comments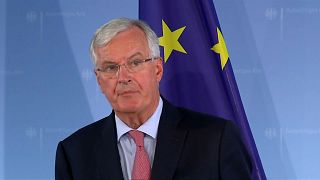 The bloc's prepared to offer Britain an unprecedented close relationship after Brexit.
That from the European Union's chief Brexit negotiator, Michel Barnier. But he says it won't permit anything that'll weaken the body's single market. With just seven months to go until Britain is due to leave the EU, the two sides are yet to reach a divorce deal.
Michel Barnier, European Union Chief Brexit Negotiator says, "The British ask us to respect their red lines, to respect their decision to leave the European Union, and we do respect them - scrupulously. In return, they must understand that they have to respect what we are, and they are very familiar with what we are - the interior market, the single market - because we constructed it with them. There is no single market a la carte."
The House of Lords EU Committee held an extraordinary evidence session with Brexit Minister Dominic Raab.
UK's Brexit Minister, Dominic Raab says, "I am confident that a deal is within our sights. We're bringing ambition, pragmatism, energy, and if - and I expect it will be - and if it is matched, we get a deal. I'm aiming, we're aiming, for the October council (European Council meeting), but there is some measure of leeway."
If a no-deal is reached blocked ports at Calais and Dover could squeeze Britain's economy, manufacturing and food supply. It means there could be no agreements to facilitate trade. It could also mean UK goods arriving in France, could be left longer in the port.