French president calls for unity above nationalism
Comments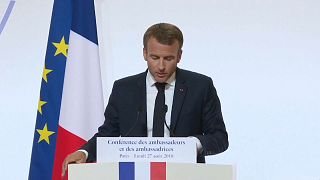 In a speech that put European unity above all else, including Brexit, French President Emmanuel Macron on Monday hit out at what he called Donald Trump's "aggressive isolationism." Speaking at a meeting of ambassadors to France he said that Europe has to stop depending on America to guarantee its security and that he would soon put forward his own proposals to address the matter.
"In the coming months, I will be presenting a project to strengthen European solidarity in the field of security. Europe can no longer hand over its security to the United States alone. It is up to us to take our responsibility to guarantee security, and therefore European sovereignty."
Macron also took a swipe at some other EU countries, including Italy, who he says are supporting EU policy when it suits them but putting national interest above unity on other matters.
"Italy is opposed to a Europe that doesn't show solidarity in terms of migration but is in favour of a Europe when it comes to structural funds. Viktor Orban's Hungary has never been against the Europe of the structural funds and the common agricultural policy, but against Europe when it comes to making great speeches about Christianity. There is a clear voice of European opportunism and claimed nationalism."
The president also had the UK in his sight, telling his audience that preserving European Unity is more important than forging a good relationship with Britain post-Brexit.