Brussels and Westminster brace for "no-deal" contingency plan publication
Comments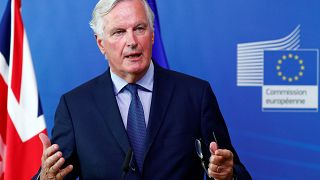 Brussels is bracing itself today, as the UK Government prepares to publish its advice on what will happen if the UK leaves the EU without a deal.
There will be 1.2 million job losses in the EU 27 as the result of "no-deal", and half a million in the UK."

Open Europe
The UK's plan will cover over 70 areas of public life, including medicines and farming, and will guide people on what the impact of a "no-deal" Brexit could be. Many businesses, organisations and individuals have been asking for these contingency plans since Article 50 was invoked in March 2017.
Peter Kleppe from think tank Open Europe, said: "I think there will be a deal simply because the consequences of no deal are too big. There will be maybe 1 point, 1 point 2 million job losses in the EU 27 as the result of no deal and half a million in the UK. So nobody wants that."
Whilst the contingency plans have been slow to be announced by the UK, conjecture of the consequences for EU countries has been forthcoming. Last month the International Monetary Fund (IMF) projected that growth across the EU could go down by 1.5% by 2030. For the IMF, Ireland is particular vulnerable, due to it's shared border with the UK. Ireland meanwhile have begun to put plans in place for a post-Brexit landcape. These include the hiring and training of 1000 extra officials- including customs officers. The Irish Taoiseach, Leo Varadkar, has said that this will not be in place by the time the UK leaves the EU on March 29, 2019.