Watch: Argentina dominate in World Tango Tournament
Comments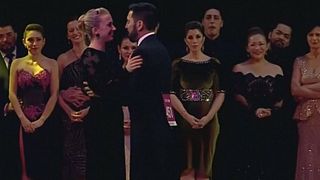 The World Salon Tango Championship title will remain in Argentina.
An Argentinian duo took home first prize in the salon category on August 21. Forty couples from around the world including Spain, Colombia, Italy and Russia took to the stage for the final in Buenos Aires, Argentina.
The top four places were claimed by Argentinian couples, with a Russian pair placing fifth.
Winners Carla Rossi (30) and Jose Luis Salvo (32) secured victory and received around €2,300, return flight tickets to Madrid as well as sponsored prizes.
This is the third time the Argentinian couple participated in the event and placed second in 2017.
The primary feature of salon tango is the constant tango embrace and is thought to be more traditional than the stage category.
Rossi and Salvo will return to the stage Wednesday to compete in the stage category final, with this dance known for flair and extravagance.
Nearly 600 dancers have performed throughout the 2018 World Tango Championships.
The annual tournament showcases various styles of tango in different categories.