Chinese Vice Commerce Minister in Washington for trade talks
Comments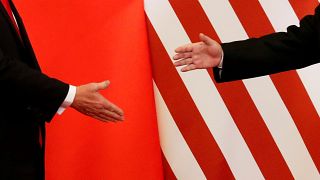 -
Copyright

REUTERS/Damir Sagolj
The Chinese Vice Commerce Minister Wang Shouwen is in Washington on Wednesday and Thursday for the first official trade talks between the two countries since June. The trade dispute between the US and China has seen a series of tit-for-tat measures ratchet up the pressure and rattle world markets. New tariffs set to take effect on Thursday will see the total rise to $50 billion in tariffs imposed by each country.
Beyond Thursday's new tariffs, Trump has also threatened to raise another $200 billion worth, bringing over 50% of Chinese imports to the US under a tax. Hearings for those tariffs will begin on Monday.
Donald Trump does not expect to see progress this week. "I'm like [the Chinese]," he said. "I have a long horizon." He's  threatened to escalate the dispute to apply tariffs to all of the approximately $500 billion worth of goods that China exports to the US.
Trump said that any lasting solution would take time. "China's done too well for too long, and they've become spoiled. They dealt with people that, frankly, didn't know what they were doing, to allow us to get into this position."
Trump seems to be out of step with the mid-level officials on both sides, however- Chinese and American officials who will be at the talks say they hope to resolve issues and avert a full-blown trade war that could be damaging to both nations.