Europe briefing: 7 stories to know about today
Comments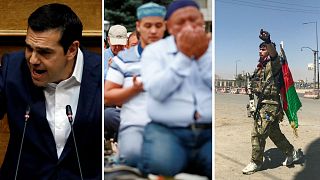 1) Afghanistan rocket fire
Several rockets have hit near the diplomatic area of the Afghan capital, Kabul, on Tuesday morning, according to the government.
Fighting had broken out between security forces and militants in the city's old quarter, according to AFP news agency citing Afghan officials.
President Ashraf Ghani was giving a speech to mark the beginning of the Eid al-Adha holiday in the area when the attack took place.
It came just days after Ghani offered the Taliban a three-month ceasefire, which the group rejected and said they would continue with attacks.
2) Italy deadly flash floods
At least 11 hikers have been killed after flash flooding hit a gorge in southern Italy.
Tourists packed the Raganello Gorge in the Calabria region when it began to fill rapidly with rainwater on Monday.
Officials said the hikers were killed when they were washed away over rocks by a raging white-water creek.
At least five people were missing but the total could be more because not everyone had entered the gorge with official guides or were registered.
3) Eid al-Adha celebrations
Muslims across the world are celebrating the festival of Eid al-Adha, which coincides with the final rites of the Hajj in Saudi Arabia.
Many will celebrate on August 21, while millions of others will celebrate the start of the religious holiday on Wednesday.
4) Sentsov hunger strike
Supporters of Oleg Sentsov and human rights groups are marking 100 days of his hunger strike with protests near the Russian Embassies in London, Stockholm, Kyiv, Copenhagen and elsewhere.
The events, organised by PEN international, are scheduled to be held at 11 o'clock local time in each city.
Ukrainian filmmaker Sentsov started a hunger strike on the May 14 in a prison in Siberia to campaign for the release of 64 other Ukrainian prisoners held in Russia and annexed Crimea.
5) Greece post-bailout
Greek Prime Minister Alexis Tsipras said on Tuesday the country had good reason to expect better days ahead after formally exiting its last financial bailout, putting an epilogue to a dramatic nine-year debt crisis.
"Today a new day is dawning in our country, a historic day. The bailouts of recession, austerity, recession and social desertification are finally over," Tsipras said in a televised address to the nation from the island of Ithaca.
6) Asia Argento claims
Los Angeles County Sheriff's Department Tuesday issued a statement saying it was "aware of media reports naming Asia Argento as being involved in an alleged 2013 incident".
Italian director Argento — a leading figure in the #MeToo movement — allegedly paid off a former child actor who accused her of sexual assault shortly after his 17th birthday, according to legal documents acquired by the New York Times.
The legal age of consent in California is 18. According to the NYT, Argento has declined to comment to the newspaper.
"To date, the LASD has not located any police report alleging criminal activity within our jurisdiction in relation to this incident," the statement read.
"After becoming aware of the allegations, the LAPD's Special Victims Bureau is attempting to reach out to the reported victim and/or his representatives in an effort to appropriately document any potential criminal allegations."
7) Microsoft blocks politically-motivated, Russian cyber attacks
Last week, Microsoft's Digital Crimes Unit (DCU) successfully executed a court order to disrupt and transfer control of six internet domains created by a group widely associated with the Russian government and known as Fancy Bear, the tech giant has said.
The company said it provided this service to shut down 84 fake websites that were targeting think tanks and political organisations they believed to be under attack.
"It's clear that democracies around the world are under attack. Foreign entities are launching cyber strikes to disrupt elections and sow discord," said Microsoft president Brad Smith in the post.
Here's how events unfolded: