Turkish court rejects US pastor Andrew Brunson's appeal
Comments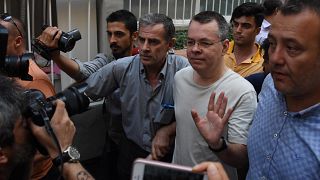 Copyright

Demiroren News Agency, DHA via REUTERS
A court in Turkey has rejected an appeal by an American pastor, who faces terrorism charges, to be released from house arrest and for his travel ban to be lifted.
Andrew Brunson's case has been at the heart of the escalating diplomatic row between the Trump administration and President Erdogan's government. The Turkish lira has plunged as each country seeks to punish the other with sanctions and tariffs.
The 2nd Penal Court in Izmir rejected his appeal and sent the pastor's petition to an upper court, Hurriyet Daily News reported. Brunson's lawyer told Reuters that the appeal could be heard sooner that the usual three to seven days.
Brunson, who has lived in Turkey for over two decades, is accused of aiding the network of US-based cleric Fethullah Gulen, blamed by Erdogan for masterminding a failed coup in 2016. He is also charged with supporting the banned Kurdish PKK movement.
A number of other Americans and Turkish employees of the US diplomatic mission were also caught up in the post-coup crackdown.
A spokesman for the Turkish president has said Washington must stop trying to influence Turkey's judiciary. Turkey will continue talks with the United States if it shows a constructive stance to resolve the diplomatic row, Ibrahim Kalin said, adding that no discussions were planned.
Kalin also told a news conference on Wednesday that Turkey will take a positive stance towards trading in national currencies to escape from US dollar pressure.
President Trump and the US Vice President Mike Pence have sanctioned two Turkish ministers and repeatedly called for the release of the pastor, who was recently moved to house arrest after 21 months in prison. Brunson, who faces up to 35 years in jail if found guilty, has denied the charges which Washington believes are politically motivated.
On Wednesday Turkey imposed new tariff increases on a range of American goods, the day after Erdogan announced a boycott on US electronic products. Last week Trump said he was doubling tariffs on metal imports.