The Oscars cause upset throughout Hollywood as they add "popular film" to award categories
Comments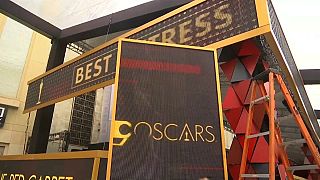 A new category announced by the Oscars has caused upset across Hollywood.
If you're sitting at home in Idaho or London, you want to see celebrity names, people that you care about".

Entertainment Journalist
The "popular film" category will take into account box office figures when deciding on nominations, with an aim to boost the number of viewers watching the ceremony from home. Under the new category, films such as Black Panther and Star Wars will be considered due to their box office success.
Audience viewing figures for the Academy Awards have been in decline for a number of years, dropping by 39% between 2014 and 2017. The length of the ceremony has also been cited as one of the reasons that the awards are inaccessible, with the Academy saying that they will host "a more globally accessible, three-hour telecast".
For those within the film industry, the changes have raised concerns. By taking into account films that are commercially popular, critics believe there is a prospect of sidelining films which both perform well at the box office, and have important messages. Last year's Best Picture nominee, Get Out, made over $255 million at the box office– but also sparked a conversation about interracial relationships and racism in the US.
People are also worried about what will be cut in order to reduce the length of the ceremony. Craft and technical categories, such as sound and lighting, may not appeal to viewers at home – but those within the industry feel that recognition is important for skills that are integral to production.
Entertainment journalist Simon Thompson said: "If you're sitting at home in Idaho or London, that's not really what you're interested in. You want to see celebrity names, people that you care about".
The Oscars currently air on the TV Channel ABC, which is owned by Disney- who also own many major franchises. Thompson said:
'This year if you're looking at popular movies, the biggest hit was Black Panther, you've got the Avengers which was massively popular as well. Those are both Marvel-Disney movies… ABC is also about to buy Fox and get a lot bigger. A lot of people are thinking it might be a little unfair purely on market ownership alone."
Not all prospective changes are bad however, with many people lobbying for the recognition of stunt actors- a vast quantity of whom work in popular films.
With Hollywood having many internal conversations about the behaviour of those who work within it off the back of the #MeToo movement, and the ability to reflect the world watching in terms of diversity of representation, the changes are hoped to mark the start of an understanding of audience needs.
Simon Thompson said: "There is a positive movement within Hollywood, directors, writers and within the Academy itself are pushing for change:"