Avengers: Infinity War breaks worldwide box office record
Comments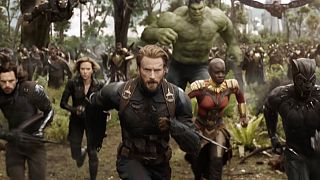 Avengers: Infinity War is super-packed with super heroes and made a super debut.
The film made history earning $520 million euros worldwide on its opening weekend.
It is likely to break the North American record after making an estimated $207 million euros stateside,
compared with Star Wars: The Force Awakens which took 205 million euros.
Infiniity Wars is the third Avengers movie and comes 10 years after the release of Iron Man, which kicked off a series of high-profile superhero films.
The film cost around 400 million dollars to make and brings together 20 superheroes including Iron Man, Captain America, Spider-Man, Black Widow and Black Panther for an all-out battle with supervillain Thanos.