Argentine president vows to keep working on abortion issue
Comments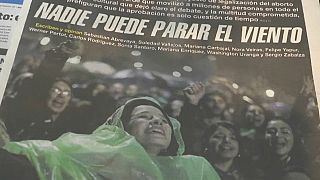 "Nothing can stop the wind" read one headline in Argentina, referencing a vow by women's movements throughout Latin America to continue their fight for legal abortion by choice.
Earlier this week the Argentine Senate rejected a bill which would have done just that, even though the legislation had been approved by Congress deputies. President Mauricio Macri's government is known to be in favour of at least decriminalising abortion, and for him, the issue is far from over.
"We have a fundamental problem that will not change with one more or one less law," Macri told reporters. "We have more than 100,000 children born of unintended teenage pregnancies. This is a central topic for me that I keep working on in my daily agenda because we want these girls to have the possibility to choose and plan their lives."
The Senate rejection of the bill means abortion will only remain legal in cases of rape or when the mother's life is in danger. But it's estimated that each year there could be up to half 500,000 clandestine abortions in the country, resulting in more than 40 deaths.
The president has no plans for a referendum on the issue. Argentina is a strongly Catholic country and despite the protests, there are many who agree with keeping abortion illegal.