WATCH - Rescue efforts underway to save people trapped under wreckage of Indonesian earthquake
Comments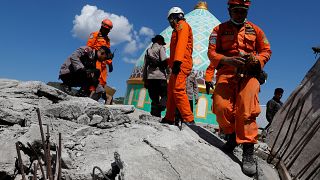 Search and rescue teams are scouring the rubble of a collapsed mosque on the Indonesian island of Lombok as worshippers are thought to be trapped beneath.
It's just one of the rescue efforts underway on the island after it was hit by a 6.9 magnitude earthquake on Sunday.
Thousands of tourists are stranded on the island awaiting evacuation and thousands more have been displaced after they fled their homes for emergency shelters.
Almost 100 people have died so far but as organisations struggle to reach some of the worst hit areas, they say that figure could rise.
Red Cross worker, Husni Husni told Euronews: "We don't have any figures on how many people are trapped, but North Lombok itself is quite a bit region, they have around 2000 population and the Head of the District confirms the massive destruction. The main three bridges that connect the way to North Lombok are broken so rescue teams have found it really difficult to get into that area, including our Red Cross teams."
This morning one woman was successfully pulled alive from the debris of a mosque which had been destroyed during the quake. Rescuers at the scene and elsewhere on the island can be seen raking through the wreckage of buildings with their hands as they desperately try to locate missing people.
Beaches on the Gili islands, just off the northwest coast of Lombok, were filled on Monday with people urgently trying to leave. Airlines operating from the islands have also added extra flights and local residents were seen queueing for trucks and buses which would take them to the nearby evacuation centres. It's thought that thousands of people have already left the island since Sunday, as aftershocks including one measuring 5.5 in magnitude continue to torment the island.
Aid agencies are providing aftercare for people affected by the earthquake but say they are in need of more food and medical supplies. The region has seen long periods of dry weather in recent months which means that clean drinking water is in short supply.