Right-wing and anti-fascist demonstrators square-off in Portland
Comments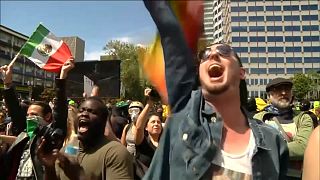 Scuffles broke out as scores of right-wing and anti-fascist demonstrators squared off on in Portland, Oregon.
Riot police tried to keep the two sides apart as protesters chanted and hurled insults at each other.
Authorities set up a security perimeter around a waterfront park and confiscated potential weapons.
Clashes after similar protests in June sent four people including a police officer to the hospital.
Among the right-wing marchers, some of whom wore body armor and carried shields, were members of the Patriot Prayer group founded by Joey Gibson.
The conservative Republican is running for the U.S. Senate in November's midterm elections.
They were opposed by counter-protesters, some of them dressed in black with face masks, who shouted anti-Nazi slogans.
Police eventually dispersed the downtown area after demonstrators threw rocks and bottles at them.