Working holiday: Macron meets May for Brexit talks at his summer residence
Comments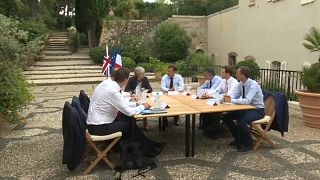 France's President Emmanuel Macron might be on holiday, but within hours of arriving at his summer retreat in the south of France he was hosting Britain's prime minister.
Theresa May was hoping to win Macron's support in the face of EU resistance to her Brexit plan.
May cut short her holiday in Italy for the meeting, reportedly made at her request.
She arrived at Macron's residence in the south of France with her husband Philip.
The couple were due to have a private dinner with Macron and his wife Brigitte at the 13th Century Fort Bregancon in the evening.
But Macron has made it clear he won't be interfering with the work of the EU's chief negotiator Michel Barnier.
Barnier has described May's Brexit plan as a threat to the future of the European single market.