French MPs demand further relaxation of Sunday shop opening hours
Comments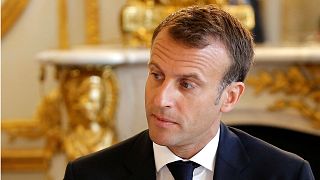 Copyright

Michel Euler/Reuters
Some 22 French MPs from Emmanuel Macron's La République En Marche! (LREM) party are pressing for further reform of Sunday opening times for shops.
The deputies put forward their case for relaxing the rules, which were already loosened by Macron in 2015, in an article published in Le Journal du Dimanche, a French weekly newspaper.
"Macron's law of 2015 was a success," they wrote. "Why are we waiting to take things further?"
Macron, at the time minister of economy, enforced changes that made it possible for shops to open on Sunday and in the evening until midnight, especially in the centres of large cities and tourist cities "for growth, activity and equal economic opportunity".
In a country known for its strict labour laws, the reform was controversial and met with anger from some politicians, including Anne Hidalgo, the mayor of Paris.
The LREM deputies proposed changes under the new "Pacte Law" — introduced to the Council of Ministers in mid-June but not yet presented to the National Assembly — intended to simplify the lives of small and medium-sized enterprises.
By getting rid of regulations for small businesses, the LREM MPs said the bill could give companies "more freedom to decide whether or not they want to open on Sunday".
"The Pacte Law is a great way to revitalise our city centres, meet the expectations of the French public and increase the attractiveness of our country in terms of tourism," the MPs wrote.
They cited the fact that the tourist areas concerned by Macron's 2015 law saw store turnover increase by 15% and "Sunday even became the second-best trading day of the week for some shops" as the driver for their demands for further change.
"Sixty-eight per cent of our citizens are in favour of easing Sunday work," they claimed in the article.
"Opening on Sunday is, above all, a social issue that corresponds to the aspiration of the French: to be free to buy, to entertain, to work, or not, on Sunday," they concluded.