North Korea have handed over fifty American human remains from Korea war
Comments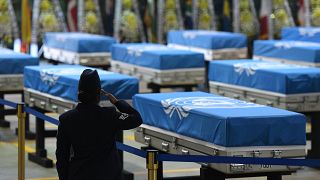 Human remains in 50 boxes have been handed over to the United States from North Korea.
The remains are likely American from the 1950 - 1953 Korean War.
That's according to initial forensic analysis.
There was a ceremony with full military honours before the coffins draped in UN flags were loaded into military transport for the flight to Hawaii on Wednesday.
It's the first step in implementing the agreement reached when both leaders met in June.
More than 7,700 U.S. troops remain unaccounted for from the Korea War.
A single dog tag was handed over but it's unclear if his remains were among the 50.
The family has been notified.
Experts say positively identifying the decades-old remains could take anywhere from days to decades.