Explained: what you need to know about Nicaragua's deadly crisis
Comments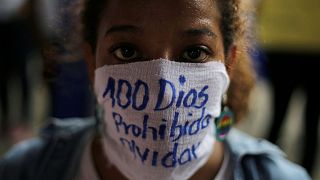 Nicaragua, a country in Central America, has been gripped by a deadly crisis since street protests erupted three months ago.
Here we explain what you need to know.
How did the protests begin?
They began unexpectedly on April 18 this year when people hit the streets to protest against reform to Nicaragua's social security system, which would have seen the country's pension benefits trimmed.
What happened next?
There was a violent crackdown by the government in which up to 400 people have been killed and thousands injured, claim NGOs and human rights organisations.
A further 600 people are missing, according to the the Nicaraguan Association for Human Rights.
The protests were peaceful at first but spiralled into a wider opposition of President Daniel Ortega's government.
"Heavily armed pro-government groups remain at large, accompanied by police forces, committing joint attacks against the civilian population," said Erika Guevara-Rosas, Americas director at Amnesty International.
What about Ortega?
Daniel Ortega, a former left-wing guerrilla who helped overthrow the Somoza dictatorship in the late 1970s, was elected to power in 2007.
Ortega pushed to change the constitution in five years ago to allow Nicaraguan presidents to serve for an unlimited number of terms.
He was re-elected in 2016.
Some say the breeding ground of the current crisis is Ortega seemingly wanting to retain his grip on power.
"Finally the people of Nicaragua exploded like a volcano, which accumulates energy and erupts when we least expect it," Carlos Tunnermann, Nicaragua's former minister of education, told Euronews.
What does Ortega say?
Ortega, whose wife Rosario Murillo is the country's vice president, has told Euronews that he does not plan to resign or bring elections forward.
He considers the protesters terrorists and part of a coup attempt financed by the US.
You can watch more of Euronews' interview with Ortega on Monday, July 30, at 19h, 20h and 22h.