Terror suspect deported from Germany then ordered to return is freed in Tunisia
Comments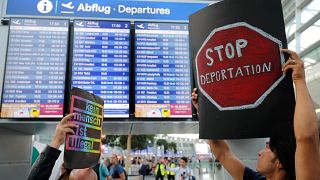 Copyright

REUTERS/Wolfgang Rattay

-
A terror suspect who was deported by Germany only for a court to rule that he must return has been released by Tunisian authorities. 
Sami Aidoudi, a suspected ex-bodyguard of Osama bin Laden, was released because of a lack of evidence against him, according to Tunisia's anti-terrorist judiciary body.
"The suspicions relating to Sami Aidoudi have not been proven yet, but the investigation is ongoing," said the body's spokesman Sofian Sliti. 
Aidoudi was flown back to his native north African country earlier this month, despite a court ruling that allowed him to stay in Germany because of fears he may be tortured in Tunisia.
Tunisia's anti-terrorism agency has been quoted as saying there had been no request from the German authorities to take him back.
Germany's Interior Minister Horst Seehofer has denied that the man was deported illegally, saying he stood by the decision from North Rhine-Westphalia state to expel him. He was speaking at an event to publicise plans to extend a list of designated "safe countries", whose citizens are ineligible for asylum, and which includes Tunisia.
The Interior Ministry has said that it did not put pressure on the regional authorities to accelerate the procedure, even though it was politically important to deport the suspect quickly.
Aidoudi has been accused of undergoing training at an al Qaeda camp in Afghanistan in 2000 and of having been a bodyguard for bin Laden, the group's leader, at various times. He has denied the allegations.
He originally applied unsuccessfully for asylum in 2006. The 42-year-old has spent the last eight years living in the German city of Bochum with his wife and children, who are German citizens.
In June, Aidoudi was arrested following a court ruling. But on July 12 another court decision ruled that this decision must be reversed. The verdict was reportedly sent by fax but was not seen by authorities until the plane had taken him off.
The following day a court in Gelsenkirchen said his deportation was "grossly unlawful" and ordered that he be brought back to Germany. It backed the previous ruling which said Tunisia had not guaranteed that the man would not be tortured. German law stipulates that foreign nationals cannot be deported if they face the threat of death or torture.
Seehofer – a strong critic of Angela Merkel over her immigration policy – has blamed a "communication failure" for the deportation, prompting a sceptical response on both sides of the political divide. The interior minister had previously called on migration officers to make the case a priority.
Aidoudi, who reportedly came to Germany as a student in 1997, has repeatedly denied the charges against him and says he was studying in Karachi at the time he is alleged to have worked for bin Laden.