Facebook: Five things to know after fortunes shift
Comments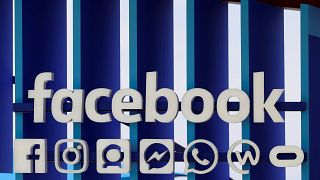 Copyright

REUTERS/Eric Gaillard/File Photo
Facebook fortunes have shifted after shares plunged as much as 24% on Wednesday and user growth missed expectation. The tech giant said it expects revenue growth to slow as it "puts privacy first".
Euronews takes a look behind the numbers to see what it all means.
1. Facebook loses three million users in Europe
The introduction of a new European privacy law has knocked user growth and engagement. Facebook's daily active users in Europe fell by three million in the quarter, a drop of about one percent, amid the new regulation. The General Data Protection Regulation (GDPR) gives an individual the right to find out whether, where and for what purpose their personal data is being processed. But Facebook said that the drop in users was consistent with the previous quarter's outlook and did not say if it expected the decline to last.
Worldwide daily user growth for Facebook slid for its sixth straight quarter, bringing it to nearly 1.5 billion users in the second quarter.
2. Facebook pays the price of privacy
Facebook has been left surrounded in a privacy scandal after it allowed an app to harvest data from 87 million user profiles around the world, which was then used by Cambridge Analytica in the 2016 US presidential campaign and in the Brexit referendum. While Facebook was fined and CEO Mark Zuckerburg apologised repeatedly, Facebook's reputation has been damaged and it is literally paying the price.
Facebook had cautioned investors to expect a jump in second-quarter costs due to efforts to address concerns about the poor handling of users' privacy data and to better monitor what users post. Total expenses in the second quarter jumped to €6.3 billion.
3. Advertising takes a hit as sales defy expectations
Facebook reported sales in the second quarter grew 42 percent- far lower than what was expected. It is the company's slowest pace in nearly three years, to over €11 billion compared with nearly €8 billion a year ago.
Advertising contributes is another reason for the drop in forecasts. The GDPR has forced several changes to Facebook's privacy terms and sign-up process, leading to some users to opt for non-personalised adverts, which generates less revenue.
Meanwhile, investors have also raised concerns that Facebook has reached the limit of how much advertising it can show in its news feed, before finding other places that are as effective to advertise.
4. More than 2.5 billion users interact with other Facebook apps
Facebook said for the first time more than 2.5 billion users interact with at least one of its apps each month (which include Instagram, WhatsApp and Facebook). However, analysts say that many of them spend more time on Facebook Messenger, WhatsApp, and Instagram.
But Facebook is trying to find success with the three apps by emphasising Stories, a video and photo sharing format borrowed from Snapchat.
5. Facebook pins its hope on Stories
Stories enables users to upload short user-generated photos or videos and Facebook is hoping that it will create growth for the social media company.
Facebook's chief operating officer Sheryl Sandburg said that it will be an "important opportunity for growth" because they are more "authentic" and "engaging".
She added it would take time to see if advertisers would bite "we definitely see it takes a while for advertisers to adopt new formats".