Thousands march to highlight the issues still surrounding AIDS virus
Comments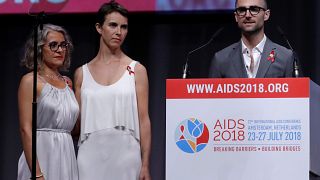 Thousands of people marched through the streets of Amsterdam raising awareness about AIDS.
They're highlighting the many issues which surround HIV and the stigma people still face.
The city's hosting the AIDS 2018 conference with over 15,000 participants this week.
The President of the event points out the problems females face with Aids.
President of AIDS 2018, Linda-Gail Bekker, says, "Enough of women and girls not having access to basic services because of shame or taboo or lack of access to education or because men make the rules".
According to the World Health Organisation, there were around 20.9 million people receiving HIV treatment in mid-2017.
HIV/AIDS remains one of the world's most significant public health challenges.
At the event, Prince Harry follows in his mother's footprints, as Princess Diana is hailed at changing attitudes about the virus.
The Prince's focus is on teenagers having the disease.