Swimmers race from Asia to Europe across Turkey's Bosphorus Strait
Comments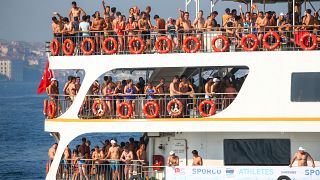 Over 2,000 swimmers raced from Asia to Europe in Turkey's annual Bosphorus Intercontinental Swimming Race on Sunday.
They thrashed across the Istanbul seaway which marks the traditional boundary between the two continents.
It's about 700 metres wide at its narrowest point.
This year's race attracted contestants from 50 countries but the winners in the men's and the women's race, Doğukan Ulaç and Hilal Zeynep Saraç, were both Turkish.
The 30-kilometre strait is one of the world's most spectacular and hotly contested waterways.
Once it was the gateway to the oceans for the Soviet Union's nuclear equipped navy, but it's now an outlet for Russian and central Asian oil exports.