Nicaragua: Priest says 'church promotes peace'
Comments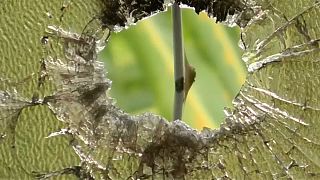 A congregation gathered for mass at a church in Nicaragua that had come under siege for sheltering fleeing activists critical of President Daniel Ortega.
Last week, students took refuge inside the Divine Mercy Catholic Church in Managua after gunmen loyal to Ortega began shooting at them.
Priest Erick Alvarado says, "At no time has the Church promoted a coup. The Church has been a mediator during dialogue as the government requested. That's what we've done, facilitating room for agreement between opposing sides. The Church always promotes peace."
Two people were reportedly killed in that siege as tensions mount between pro-Ortega forces and demonstrators.
Nicaragua has been embroiled in violent unrest since April, which has seen around 300 people, mainly young, killed in protests.