Heatwave wreaks havoc across Europe
Comments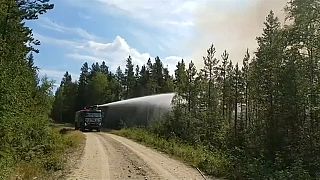 Soaring summer temperatures have wreaked havoc across Europe with Sweden witnessing the country's most serious wildfires in decades.
Many parts of Sweden have seen their driest weather in the May to mid-July period since records began in the 19th century.
Firefighters are struggling to extinguish wildfires that have affected more than 20,000 hectares across the heavily forested country.
Two Italian fire fighting planes and Norwegian helicopters are helping with water bombing affected areas.
Meanwhile, Britain has recorded the driest weather in 50 years for the first half of the summer.
The lack of rain has left many fields and public parks dry and yellow.
According to the UK's Met Office, as little as 47 millimetres of rain has fallen across the country so far this summer.