Greece appeals for help after deadly fires ravage coast
Comments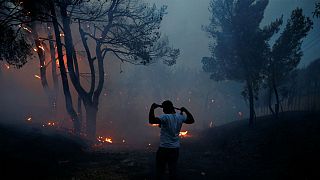 A state of emergency has been declared in Greece as wildfires rage across the country, killing at least 60 people, authorities said on Tuesday morning.
A group of twenty-six people have been found dead after being trapped by wildfires near the Greek resort town of Mati, some 30 kilometres away from Athens.
The bodies were found near a restaurant on the coast, said Vaggelis Bournous, the mayor of Greece's eastern municipality, Rafina-Pikermioy. Overnight authorities had counted twenty-four other victims of the inferno that engulfed the resort town and its surrounding area.
'Everything possible will be done'
Greece has appealed for help from its neighbours to tackle the disaster with Cyprus, Spain and Bulgaria already promising to send assistance, the EU's Commissioner for Humanitarian Aid and Crisis Management announced in a statement.
"Today is a day of great sorrow for Greece and for all of Europe," Christos Stylianides said.
"The EU stands with the Greek people in solidarity at this difficult time," he added.
In an earlier statement posted on Twitter, Stylianides said Cyprus and Spain had offered to send a combined team of 64 firefighters and paramedics as well as two firefighting trucks and two Canadair firefighting planes.
In a statement, EU Commission President Jean-Claude Juncker said that "everything possible will be done to provide support today, tomorrow and for as long as it takes."
Greek Prime Minister Alexei Tspiras cut short an official visit to Bosnia to deal with the crisis, promising to mobilise all resources but warning that conditions were extremely difficult.
'Mati doesn't exist anymore'
More than a 100 people have been injured in the most devastating wildfires the country has seen in more than a decade.
The last time the country saw devastation on a similar scale was when blazes swept through the southern Peloponnese peninsula in August 2007.
Hundreds of homes and vehicles have also been burned out in parched conditions caused by the summer heatwave.
Most of the victims who died had been trapped in their homes or vehicles and residents in the area are being urged to leave their properties without delay.
"Mati doesn't even exist as a settlement anymore," one woman told Greece's Skai TV. "I saw corpses, burned-out cars. I feel lucky to be alive."
Many people crowded onto beaches to seek refuge from the blaze as boats worked the coastline to take them to safety.
A separate fire also broke out west of Athens yesterday, adding to the challenge faced by the authorities. Roads were shut and railway services cancelled.
A drone has been deployed to monitor the area and try to identify how a number of fires seem to have broken out in such a short time.