Analysis of extreme global weather
Comments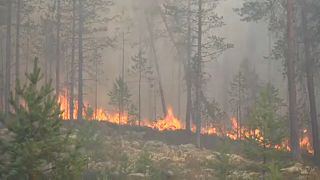 The northern hemisphere's suffering from a heatwave like no other at the moment, as we know.
Wildfires across Greece, Sweden and America just some of the countries affected whilst Japan, the UK and the rest of Europe are struggling with high temperatures.
Our reporter interviews a specialist.
Euronews' Giorgia Orlandi says, "Let's talk about the unusual heat in most of Europe, especially in the north. Could you please explain if it is a passing phenomenon or if it's the start of a permanent change of weather patterns".
Head of Climate Modelling Laboratory, Department of Sustainability, Gianmaria Sannino says, "A weakening of the jet stream is keeping large portions of hot air, basically anticyclones, stable in the same areas: Japan, Canada, California and of course Northern Europe, Scandinavia and the UK".
He adds, "Another consequence of the weakening of the jet stream is the high water temperature of the North Atlantic. So if we start considering this phenomenon as a global one then we realize that something is actually changing
What we know is that in a climate change regime, which will increasingly change the average temperature of the planet, this kind of phenomena can occur with increasing frequency and, what's worse, even with greater effects".
Gianmaria Sannino says countries must take responsibility of reducing climate change, "Obviously, States bear great responsibility. They must work hard to implement the Paris agreements and this means working decisively on climate change mitigation. This can only happen by massively reducing greenhouse gas emissions, first and foremost Co2. This means working on the way of producing energy, renewable energy. Another fundamental aspect is energy efficiency".