Poland's post-apocalyptic "Old Town" festival
Comments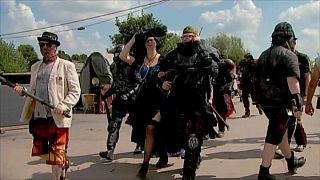 The Old Town festival in the Polish city of Stargard could not be more inappropriately named.
In fact it's billed as "the biggest post-apocalyptic festival in Europe" is wildly exciting and just a little scary.
It stages a live one hundred hour long action game where particpants role play, many of them clearly inspired by the Australian cult dystopian film Mad Max.
It's known as a larp - a "live action role play" and is performed at the city's former Kluczewo airport.
"It's really unique to find so many people in such a small area that share a common passion, said one young Polish player.
"They can be lawyers, journalists, engineers or kindergarten teachers, each of them from a completely different world but together they create a separate world," she added.
Set in a world destroyed by nuclear war, each of the thousand or so of the game's afficionados plays a carefully prepared character with inspiration from the Metro 2033 books and the Fallout Games series.
The OldTown has its own economy and new players join an already functioning society where everyone has friends and enemies.
There are hidden treasures, resources necessary for survival, as well as tasks to be carried out.
The players' clothing, their camps, cars, weapons and even everyday objects reflect the realities of a world destroyed by a global nuclear conflict.
But there are more boring activities at the festival, such as concerts, sports and parties, the organisers are keen to point out.