Trump defends 'great meeting' with Putin
Comments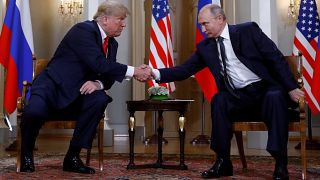 -
Donald Trump has returned to Washington amid a growing storm over his defence of Russia's alleged interference in the 2016 US election.
The US president took to twitter on Tuesday to blame the media for his poor reviews.
"While I had a great meeting with NATO, raising vast amounts of money, I had an ever better meeting with Vladimir Putin of Russia. Sadly, it's not being reported that way - the Fake News is going Crazy!"
Trump shocked both allies and opponents on Monday when he sided with Putin over the findings of his own intelligence agencies.
Former CIA Director John Brennan called Trump's actions "treasonous"; Senator John McCain said the president failed to defend America.
Trump later backtracked, tweeting that he has "great confidence in [his] intelligence people".