Putin: Meeting with Trump was "successful"
Comments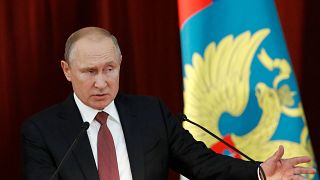 President Putin says his meeting with President Trump was "successful and has led to useful agreements".
At a speech to his Ambassadors and permanent representatives on Thursday, he also added, building a stable Europe doesn't mean putting military bases near Russia.
Russian President, Vladimir Putin says, "The key towards ensuring security and stability in Europe is in widening cooperation and rebuilding trust, and not in deploying new NATO bases and military infrastructure near the Russian borders, as is happening now. ( We will react proportionally to such aggressive steps, which pose a direct threat to Russia.) Our colleagues, who are betting on increased tensions, striving towards including countries like Georgia and Ukraine into NATO`s military orbit had better think about the possible consequences of such an irresponsible policy."
President Putin then hit back at President Trumps critics.
He went onto say some people in the US are against the Russian - US relationship. "We see that there are powers inside the United States that are easily prepared to sacrifice Russian-American relations for their own ambitions in the internal political fight in America. As different as our views are, we agreed that the Russian-US relations are in an extremely unsatisfactory state, worse, by many parameters, than during the Cold War. Nevertheless, I think that we have opened a way towards positive change.
President Trump sent out a tweet making out journalists are the real enemy and not Russia and he looks forward to their second meeting.
"The Summit with Russia was a great success, except with the real enemy of the people, the Fake News Media. I look forward to our second meeting so that we can start implementing some of the many things discussed, including stopping terrorism, security for Israel, nuclear........"
Helsinki, the end of the press-conference. Putin passing the ball to Trump
They both ended the press conference at Helsinki on a positive note by literally and symbolically by passing the ball to Trump.