US indicts Russian intel officers for Clinton hack
Comments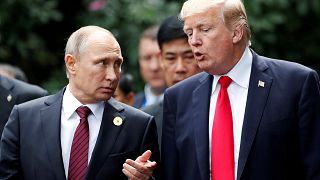 A federal grand jury in the United States has indicted 12 Russian intelligence officers on charges of hacking the computer networks of Hillary Clinton and the Democratic Party during the 2016 presidential campaign.
The officers "engaged in a sustained effort to hack into the computer networks of the Democratic Congressional Campaign Committee, the Democratic National Committee and the presidential campaign of Hillary Clinton," the Justice Department said in a statement on Friday.
All 12 defendants are members of the GRU, the military intelligence service of the Russian armed forces, who were acting in "their official capacities", according to the news release.
Their indictments come as part of special counsel Robert Mueller's probe into Russian interference during the 2016 election.
In February, Mueller charged 13 Russian nationals and three Russian companies for conspiring to interfere with "US political and electoral processes", including the election.
Former Trump campaign aides, including former campaign chairman Paul Manafort and former White House national security advisor Michael Flynn, have also been summoned to court as part of the probe.
Minutes after news of the latest indictments broke, Democrats called on Trump, a Republican, to make a deal with Russian President Vladimir Putin to stop Moscow meddling in US affairs. The leaders are due to meet in Helsinki on Monday.
"President Trump must demand and secure a real, concrete and comprehensive agreement that the Russians will cease their ongoing attacks on our democracy," House Democratic leader Nancy Pelosi said in a statement.
"Failure to stand up to Putin would constitute a profound betrayal of the Constitution and our democracy."
Yet Russia has denied claims that they interfered in the 2016 election, and on Friday their foreign ministry refuted the latest batch of allegations, dismissing it as a "fake matter" designed to "spoil the atmosphere" ahead of the Trump-Putin summit next week.