UK police confirm source of Novichok nerve agent in Amesbury has been found
Comments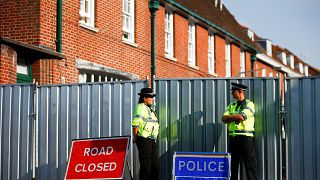 British counter-terrorism officers say the source of a military-grade nerve agent that poisoned two British citizens in June has been found.
The substance was discovered in a small bottle found in victim Charlie Rowley's house in Amesbury, southwest England, on Wednesday.
"Scientists have now confirmed to us that the substance contained within the bottle is Novichok," police said in a statement late on Friday.
Rowley's 44-year-old partner Dawn Sturgess, who was also poisoned on June 30, died on July 5, prompting police to open a murder investigation.
On Wednesday, 45-year-old Rowley's condition was described as "serious but stable" by Salisbury District Hospital, where he is currently being treated.
Metropolitan Police Assistant Commissioner Neil Basu said the poisoning is likely linked to the attempted murders of former Russian spy Sergei Skripal and his daughter Yulia, who had been poisoned by Novichok in a separate incident in Salisbury in March. They have since been discharged from hospital.
An investigation is now under way to establish if the substance from the incidents in Amesbury and Salisbury came from the same batch.