Novichok victim released from UK hospital
Comments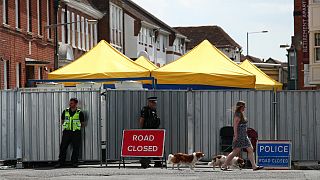 Charlie Rowley, one of two Britons poisoned with the nerve agent Novichok last month, has been released from hospital.
Health authorities say his release does not create a risk to the public.
Rowley and his partner Dawn Sturgess, collpased after being exposed to the nerve agent.
The incident happened in the town of Amesbury close to Salisbury where Russian double agent Sergei Skripal and his daughter Yulia were attacked with the same substance in March.
Mother-of-three Sturgess died earlier this month and her death is being treated as murder.
Police say the source of the Novichok which killed Sturgess was a small bottle they found in Rowley's house. More than 400 items have been recovered as part of the murder investigation.
Counter-terrorism police are investigating five sites in Salisbury and Amesbury, in an attempt to identify where the couple came into contact with the nerve agent.