Novichok used in both UK poisoning cases, chemical weapons watchdog confirms
Comments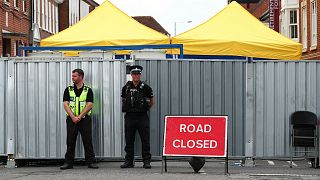 Copyright

REUTERS/Hannah McKay
The substance that killed 44-year-old Dawn Sturgess in Amesbury, UK, was the same Novichok nerve agent that poisoned the Skripals, chemical weapons experts have found.
The Organisation for the Prohibition of Chemical Weapons (OPCW) said on Tuesday that its analysis confirmed the UK government's findings.
Dawn Sturges died after she and her partner were exposed to the toxin in Amesbury in July, months after former spy Sergei Skripal and his daughter Yulia were poisoned in Salisbury.
The UK has accused Russia, which developed the toxic agent in the Soviet Union era, of poisoning the Skripals, while Moscow has repeatedly denied all involvement.
Following the results, Foreign Secretary Jeremy Hunt said the "recklessness of the Russian state in bringing a nerve agent in to the UK, and total disregard for the safety of the public, is appalling and irresponsible."
"This is another reminder of the importance of the international community standing together to uphold the global ban on all use of chemical weapons, and ensure that the rules based international order is respected so we can all keep our citizens safe," he added.
The OPCW's findings came as the Russian Embassy in London accused the UK of refusing it access to the Skripals.
In a statement marking six months since the pair were admitted to hospital, the embassy said they had been "kept in isolation and under full control of British authorities."
"They remain out of the public eye at an unknown location, unable to communicate freely with their relatives, friends, journalists or Russian officials, deprived of the freedom of movement," it added.
The embassy said it wanted to establish direct contact with the Skripals to verify their health, the conditions they were being kept in and whether their "isolation" was voluntary.
It said it had sent 70 official notes to the Foreign and Commonwealth Office, the Home Office and the police seeking updates.
Euronews has contacted the Foreign Office for comment.