Trump says UK 'in turmoil', declines to offer support to May
Comments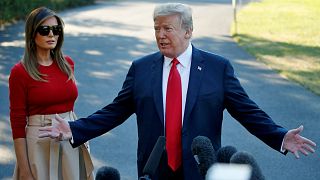 Copyright

REUTERS/Leah Millis
US President Donald Trump on Tuesday declined to offer any support to British Prime Minister Theresa May, while acknowledging that the UK was in "turmoil" after two senior ministers quit over Brexit plans.
Speaking to reporters at the White House as he departed for a weeklong trip to Europe, Trump said it was "up to the people" to decide whether May should remain in power.
He added that Boris Johnson, who resigned as foreign minister on Monday, was a friend of his.
"He's been very, very nice to me, very supportive… I like Boris Johnson, I've always liked him," he said.
Johnson stepped down from his post on Monday, warning that Britain will end up like a colony to the European Union after the government announced plans for a close trading relationship with the bloc after Brexit next year.
David Davis also stepped down as Brexit secretary.
On his European tour this week, Trump will join a NATO summit in Brussels before travelling to the UK and finally Helsinki, where he will meet with Russian President Vladimir Putin.
Trump has criticised his NATO counterparts for what he claims to be an over-reliance on US defence spending.
"It's going to be an interesting time in the UK and it's certainly going to be an interesting time with NATO," Trump told reporters at the White House.
"I have NATO, I have the UK, which is in somewhat turmoil, and I have Putin. Frankly Putin may be the easiest of them all," he said.
Responding to questions from reporters, Trump said he couldn't say if Putin is a friend or foe, but that he is a competitor.