Dozens dead in Mexico fireworks blast
Comments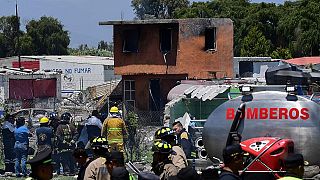 At least 24 people have been killed and 40 injured after a fireworks explosion just outside Mexico City on Thursday.
The first explosion happened after a fire broke out at a fireworks factory.
The deadly blasts happened in the Tultepec municipality, which is also known as mexico's fireworks capital.
Firefighters, police and rescue workers arrived to help at the scene of the first blast when a second explosion occurred, Emergency responders are amongst casualties as well as a minor. At least four workshops were destroyed, according to local media. The head of Mexico's civil protection agency said sale of fireworks in the area would be suspended and permits of manufacturers would be reviewed.