Watch: Margarita-loving bear relaxes in California hot tub
Comments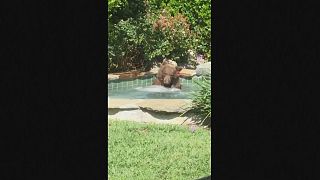 A California man was surprised to see a furry trespasser using his pool as he sipped on his Friday afternoon margarita.
A bear made full use of the garden amenities, spending a few hours in Mark Hough's backyard, it even drank the cocktail he left outside after he made his way into the house to safety.
Hough recorded video of the bear lolling in the tub with the jets on, the animal playing with the thermometer and tossing it into the air.
"He was playing having a grand old time," he said.
Bear sightings are nothing new in the area that straddles city and wilderness.
Los Angeles County Sheriff's Deputy Joana Warren said the department received six bear-sighting calls that same Friday but failed to find the creature.