Majority of Europe's waterways fail to meet minimum EU standards: report
Comments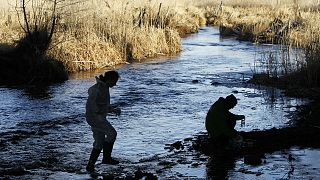 Copyright

REUTERS/Denis Sinyakov
The majority of Europe's rivers, lakes and estuaries have failed to meet minimum EU standards on water quality, according to a new report, which has prompted calls for greater action.
Some 60% of surface water bodies surveyed by the European Environmental Agency (EEA) haven't reached a good ecological status under the Water Framework Directive.
The legislation, adopted 18 years ago in a bid to protect and restore freshwater habitats in Europe, committed EU members to achieving a good ecological status for their waterways by 2015.
Central European countries, such as Germany, the Czech Republic and Hungary, were some of the worst performing in the region, with more than 90% of water bodies failing to achieve the directive in some areas.
Northern European countries Sweden and Finland were among the top performers in the the State of Our Waters report, which studied over 130,000 waterways from 2010-2015.
England saw similar results to countries in central Europe, with a large proportion of water bodies failing to reach the "good" status, while neighbouring Scotland's water standards were more similar to Scandinavia.
The report found that just 38% of monitored lakes, rivers and other surface water bodies are in good chemical status — with concentrations of pollutants not exceeding EU environmental quality standards.
The report's lead author, Peter Kristensen, told Euronews that water quality was typically better in less populated areas, as he cited pollution from agriculture, industry and households, the expansion of hydropower dams and the rerouting of rivers as some of the biggest issues.
He called for cooperation between member states and water authorities to "identify the problems and introduce a programme of measures with the aim of achieving a 'good' status."
"The Water Framework Directive has measures [to improve the situation]. Now is the time to get them implemented," he said.
Hans Bruyninckx, the EEA's executive director, agreed.
"We must increase efforts to ensure our waters are as clean and resilient as they should be — our own wellbeing and the health of our vital water and marine ecosystems depend on it," he said in a statement.