Poland Holocaust law drops jail terms
Comments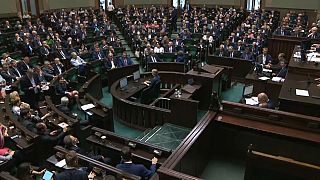 Polish lawmakers voted on Wednesday to water down a Holocaust law that angered the United States and Israel.
It's to remove parts that imposed jail terms on people who suggest the nation was complicit in Nazi crimes.
388 lawmakers were "for" and 25 "against" with 5 not voting.
Polish Prime Minister, Mateusz Morawiecki says, "The purpose of this law was and still is to fight for the truth about the times of World War II. You know how this truth has been falsified in the last 30 years and that`s why this act is a kind of shock that was needed".
Jews from across the continent were sent to be killed at death camps built and operated by Germans in occupied Poland - home to Europe's biggest Jewish community at the time
About 3 million Jews who lived in pre-war Poland were murdered by the Nazis, accounting for about half of all Jews killed in the Holocaust.