France fight off Peru for 1-0 victory
Comments
By Jordan Jones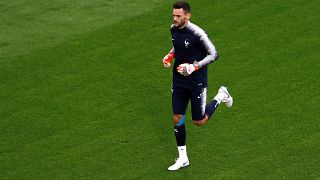 Kylian Mbappe became France's youngest ever World Cup goalscorer as he scored to give his side a one-goal lead against Peru at half-time.
Peru started the game with the intentions of a quick goal.
However, France had the first real chances. Varane headed just wide, whilst Gallese had to be alert to deny Griezmann who fired a shot at him.
Peru had their own chance to go in front. Cueva found Guerrero in the box, but Lloris saved well with his legs.
Les Bleus opened the scoring ten minutes before the interval. Oliver Giroud played the ball to Kylian Mbappe, who scored with an easy finish.
Theo Hernandez almost doubled France's lead twice. Firstly forcing Gallese into a save, before putting his rebounded effort over the bar.
Five takeaways from France vs Peru
Peru fans deliver again
The South Americans, who considerably outnumbered the French, again created a superb atmosphere in the stadium.
Giroud and Griezmann shine
Both Antoine Griezmann and Oliver Giroud were important to France's victory — Giroud set up Mbappe for his opener and was a solid aerial threat.
Griezmann, on the other hand, was outstanding in the number 10 role, carrying France forward.
France can do it ugly
Champagne football is what the footballing world is accustomed to when watching France but in the second half, they were forced to defend and they did so superbly.
Peru not clinical enough
The South Americans could only muster up two shots on target, despite all their attacking endeavours in the second half. They may have held France to just the one goal, but failed to attack the French goal.
Mbappe makes history
Kylian Mbappe became the youngest ever goalscorer at a World Cup for France. This highlights how young the French team really is and how Deschamps has given a chance to the younger players. Is it the Golden Generation's time to shine?