Trump signs executive order to keep immigrant families together
Comments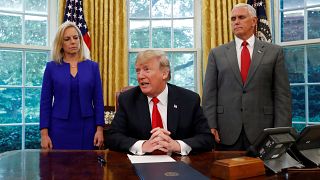 President Donald Trump, addressing what his administration has characterized as an unwanted side effect of his zero-tolerance policy on illegal immigration, signed an executive order on Wednesday to keep families who illegally cross the U.S. southern border together as they await immigration proceedings.
"It's about keeping families together while at the same time making sure that we have a very powerful, very strong border," Trump told reporters as he signed the measure.
While that may end a policy that drew national and international criticism, it may also mean immigrant children could remain in custody indefinitely. 
The Trump administration still faces a court order that put a 20-day cap on how long immigration authorities may detain minors. 
Administration officials were unable to clarify whether family separations would end immediately or when and how families now separated would be reunited. 
The new executive order moves parents with children to the front of the line for immigration proceedings but it does not end a 10-week-old "zero tolerance" policy that calls for prosecution of immigrants crossing the border illegally under the country's criminal entry statute.