World Cup 2018: Japan beats Colombia 2-1
Comments
By Ben Gibson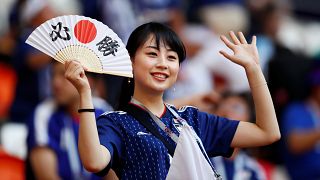 Copyright

REUTERS/Jason Cairnduff
Japan beat Colombia 2-1 in their opening Group H match on Tuesday, marking the first time an Asian team has overcome a South American one at the World Cup.
Here are five things you need to know about the game:
James Rodriguez is a fan favourite
Before the game started people knew that Rodriguez was on the bench and they were not happy about it.
Rodriguez was benched because of an injury but came on just before the 60th minute. This sent fans into a craze on Twitter, and if the fan favourite can remain fit they will be hoping that he can start for their next game.
Not all free kicks need to go over the wall
We have seen lots of free kicks taken already this World Cup but today was the first to be scored by going under the wall.
The goal by Quintero came after a challenge on Falcao and after the wall gave enough clearance for the ball to go under. It hugged the post to the keepe'rs left before slotting itself just over the line.
Japan play good possession football
For the second half, Japan had the upper hand and they exploited the extra man that they had.
However. they were able to not only pass the ball around but to maintain the possession and move it forward as a team. This gave them the edge over Colombia and allowed them to score from a set piece.
Colombia has lost Carlos Sanchez
Sanchez received a red card the in almost record time — just over two minutes into the game.
This will be a problem for Colombia as they have now lost Sanchez for the remaining group games. With the fear of also losing Rodriguez to an injury, this could cause problems for Colombia.
Set pieces
In this World Cup over 50% of goals have been scored by a set piece. There have been nine penalties, which is almost as many as in the entire 2014 World Cup.
If this continues it could break records for set-piece goals.
Look back at how the match unfolded and get all the latest updates here: