Valencia prepares to welcome migrant ship
Comments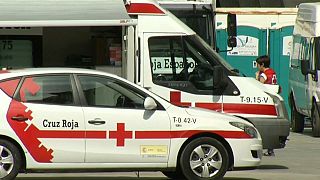 The Spanish port of Valencia is making last-minute preparations to receive the 630 migrants aboard the Aquarius and the two other Italian vessels.
Some 2,300 staff - both volunteers and officials - will be on hand to assist the passengers when they arrive on Sunday morning.
And they're aware of the trauma they have been through.
David Noguera, the President of Medecins Sans Frontiers Spain, said: "The people coming on the Aquarius have become hostages of the incongruous and contradictory politics of the different European states. Not complying with the right to life is unacceptable. The fundamental human rights of the people must be top of the agenda."
The aid operation has drawn curious onlookers to the port - both for and against the city's decision to welcome the Aquarius.
The fate of those on board has attracted worldwide attention and highlighted differences among European states over how best to handle the thousands of migrants arriving in southern Europe.
Euronews correspondent in Valencia Cristina Giner says the authorities have been practising for the disembarkation to make sure everything goes smoothly.
''The priority will be the health of those on board,'' she says.