Unexpected raids on offices of Catholic Church in Chile
Comments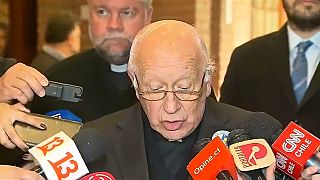 There have been unexpected raids on Roman Catholic Church offices in Chile.
Chilean police and prosecutors seized documents relating to mounting claims of sexual abuse and a cover-up in Santiago and south of the city.
It's comes just hours before the Vatican abuse investigators met the country's top prosecutor to discuss collaborating on civil and canonical probes.
Cardinal Ricardo Ezzati for Santiago says, "The Santiago Archbishop handed all the requested documents to the prosecutor, reiterating our willingness to collaborate with civil justice whatever is required."
Chilean prosecutors have also submitted a formal request to the Vatican for information it has gathered about priests and Church workers accused of sexual abuse.
That's according to a local newspaper which also said there were 'at least 40' cases of abuse within the Church from across the country.