Last orders for European drinks in one British pub chain
Comments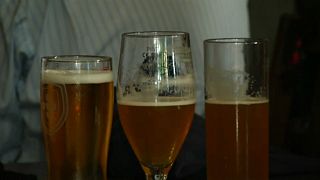 British UK pub chain JD Wetherspoon will sell more British and non-European drinks.
Tim Martin, the pro-Brexit chairman of the public houses has announced plans to stop selling champagne and German beers.
Sparkling wines will be from the UK and Australia, and beers from elsewhere.
The plan has received approval from Nigel Farage who tweeted "Good for them".
It's to make the group more competitive ahead of the country's planned departure from the EU's customs union.
Major British employer's groups are warning of the risk of tariffs and border delays in their trade with the bloc if they're outside the common external tariff area.