Spain's new socialist government is mostly made up of women
Comments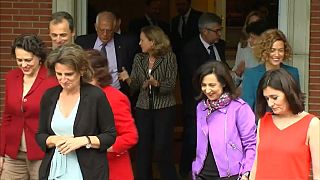 Spain's new cabinet met the first time in Madrid on Friday, a minority government maybe, but one which will be run mostly by women.
Eleven out of the seventeen ministers are women, making it the only female dominated cabinet in Europe - and possibly the world.
New socialist President Pedro Sánchez said the ministers were chosen to "reflect Spanish society."
And the new interior minister Fernando Grande-Marlaska, is not a socialist but a conservative.
"We know that women today in the Spanish government have portfolios of weight, a lot of weight, and it seems very important to us that society be reflected in its Government," said government spokeswoman Isabel Celaá.
There is an exception though.
Pedro Duque, the new Science Minister, doesn't seem very representative - but that's because he's a former astronaut and only one of two Spaniards who've travelled in Space.