Singapore Mint release commemorative coins in honour of Trump-Kim summit
Comments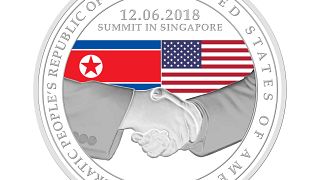 The Singapore Mint has announced the release of three new medallions commemorating the upcoming summit between US President Donald Trump and North Korea's Kim Jong Un in Singapore.
The front of the gold, silver, and nickel-plated medallions feature the shaking hands of both leaders and both countries' flags, North Korea on the left and the US on the right, to represent where each country sits on the political spectrum, the Singapore Mint told the Straits Times. The back design features a peace dove and the US and North Korea national flowers: the rose and magnolia sieboldii.
According to the Singapore Mint, the medallions represent "the significance of the summit to bring about world peace."
The summit is scheduled for June 12.
In May, the White House Communications Agency released its own minted post-summit commemorative medallion with the faces of both leaders in anticipation of the summit, as well as a challenge coin. The coins are available for order on the White House gift shop's website.
The Singapore medallions are available for pre-order starting Tuesday.