#LondonUnited: London Bridge lights up as tributes pour in for terror victims one year on
Comments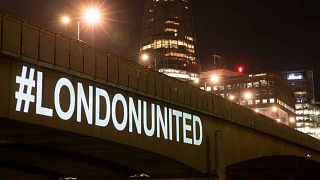 The message "#LondonUnited" was projected onto London Bridge overnight to mark the first anniversary of a terrorist attack that killed eight people.
A national minute's silence and a service of commemoration at London's Southwark Cathedral are being held in memory of the victims from the UK, Spain, France, Canada and Australia.
"A year on, it's no less difficult, no less painful. And we send our love and prayers to the victims' families and everyone who was injured," London Mayor Sadiq Khan said in a statement.
"As well as remembering those we lost that night – from London and around the world – we pay tribute to the heroic efforts of our emergency services and transport colleagues, who bravely ran towards danger while directing others to safety."
Dozens were injured on June 3, 2017 when three terrorists drove a van into pedestrians on London Bridge and stabbed people in Borough Market.
Christine Archibald, 30, Xavier Thomas, 45, Alexandre Pigeard, 26, Sara Zelenak, 21, Kirsty Boden, 28, Sebastien Belanger, 36, James McMullan, 32, and Ignacio Echeverria, 39, were killed in the attack.
Police shot dead the three attackers.
Politicians and first responders were among those to share their memories of the attack and thoughts for the victims on Twitter using the hashtag #LondonUnited.
In a statement, British Prime Minister Theresa May described the attack as "a cowardly attempt to strike at the heart of our freedoms by deliberately targeting people enjoying their Saturday night with friends and family."
"My message to those who seek to target our way of life or try to divide us is clear - our resolve to stand firm and overcome this threat together has never been stronger."