Fears for landmark peace accord as Colombia votes
Comments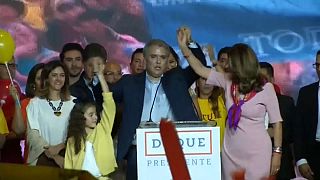 Right-winger Ivan Duque took around 39 per cent of the vote in the first round of Colombia's presidential election.
His win throws up concerns that the 2016 peace accord with FARC rebels could be under threat.
Duque, who believes the accord is too lenient on FARC, has promised to reverse some of its provisions and jail former rebels for war crimes.
Coming in a distant second was his left wing rival Gustavo Petro on around 25 per cent.
Petro backs the deal, but has provoked alarm with pledges to overhaul Colombia's orthodox economy and redistribute wealth from the rich to the poor.
With neither winning 50 per cent in Sunday's poll, the pair will have to face each other in a run-off next month.