Erdogan supporters force removal of controversial magazine cover from French newsstand
Comments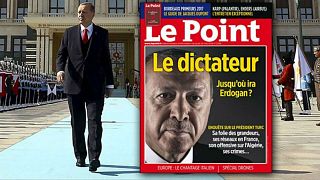 Copyright

Screengrab: Le Point/Twitter
A group of Recep Tayyip Erdogan supporters has forced a billboard company employee in France to remove a publicity poster featuring the Turkish president from a news kiosk.
The controversial Le Point cover showed a picture of Erdogan with the text: "The dictator. How far will Erdogan go?"
Videos showing the incident in Pontet in Vaucluse, near Avignon, were widely circulated on social media on Friday evening and into Saturday.
The Turkish-speaking group was filmed telling a Médiakiosk (subsidiary JCDecaux) worker to remove the poster from a display case.
They can be heard saying: "Be a man! This is how a poster can be brought down."
The newsstand's owner told Le Point passersby were asking him in the morning why he wasn't ashamed of putting the poster on his booth.
"Then others, mostly Turkish, came," he said. He explained that he didn't choose which covers were displayed, nor did he have keys to the cabinet.
"There were more and more people, police and young people, who were threatening to set the booth on fire. I ended up calling Médiakiosk to remove the poster," the newsstand owner's wife Julie told Le Point.
Le Point said it requested that the promotional poster be returned to the display case, which it was two hours later — the booth was placed under police surveillance.
Xavier Magnin, chief of staff for Pontet's mayor, said: "If we begin to shrink from intimidation, from threats, from a poster, tomorrow we will retreat for a lot of things, for rights that we have, for freedoms."
The mayor himself, Joris Hébrard, described the incident as "unacceptable" and asked the prosecutor's office to open an investigation, saying "we do not compromise with freedom of expression in France and even less Pontet".
Le Point said on its website that the article corresponding to the cover was an "inquiry about the Turkish president, his madness of grandeur, his networks in France, his offensive on Algeria, his crimes..."
Another case of Le Point promotional posters being destroyed was reported in Valencia.
"This issue devoted to the Turkish president in the middle of the electoral campaign has been the subject of an intense smear campaign in recent days in the official Turkish media and by French-Turkish political organizations," the weekly political magazine claimed.
Turkish presidential spokesman Ibrahim Kalin reacted to the cover on Twitter.
"We know the attacks. We know what their purpose is. People and the oppressed people see what's happening," he wrote.
"The days of Turkey receiving orders from the West are over. You can not bring these days back by saying 'dictator'."